Thursday July 19th, 2001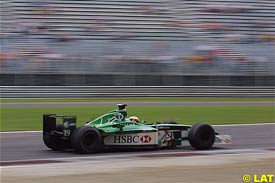 Irishman Eddie Irvine and Spaniard Pedro de la Rosa were the surprise of the third day of testing at the Monza circuit, where they topped the timesheets for the Jaguar Racing team. After yesterday's rain, the teams were able to continue working on dry set-up today.
Irvine's time was only a tenth of a second slower than that set by Ralf Schumacher on Wednesday, while de la Rosa finished nearly 0.5s behind his teammate. Irvine was only able to complete 13 laps after his car suffered a suspension failure. Ferrari's Rubens Barrichello was third quickest at the wheel of the F2001.
Jarno Trulli was fourth fastest, the Jordan driver working on brake and tyre evaluation for Hockenheim and finishing his day very pleased with the car's handling. Jordan's test driver Ricardo Zonta concentrated his efforts on general chassis set-up, although an oil leak during the afternoon reduced his mileage in the dry. The Brazilian was only tenth fastest.
British Grand Prix winner Mika Hakkinen joined the test today, the Finn working alongside Austrian Alexander Wurz, the test driver driving for the third consecutive day after David Coulthard was forced to withdraw due to food poisoning. Wurz finished in sixth place after his engine expired at midday while Hakkinen was seventh.
Canadian Jacques Villeneuve took over from teammate Olivier Panis as the British American Racing team continued working at two different circuits, with Patrick Lemarie testing at Valencia. Villeneuve was ninth quickest behind the second Williams, driven by Ralf Schumacher.
"We've been a little restricted in our running ­ partly due to the very changeable weather yesterday - but we've made some useful progress on our set up work with both drivers, and are running through our test programme as planned," explained BAR's technical director Malcolm Oastler.
Schumacher's Teammate Juan Pablo Montoya outpaced the German today posting the fifth quickest time.
The Minardi team again worked with both Fernando Alonso and Malaysian driver Alex Yoong, who could make his Grand Prix debut at the Hungarian Grand Prix in August. Alonso continued working with the revised version of the PS01, which includes a new gearbox and improved aerodynamics.
The Spanish driver was only five hundredths of a second quicker than Yoong, who put a promising performance despite being more than four seconds behind the fastest time of the day.
"It has been a good day," commented Yoong. "I understand the car better, which gives me the confidence to push harder. We tried some different suspension settings today and made good progress with the overall balance.
"The biggest area where I am still losing time is under braking. Unfortunately, a problem with the engine prevented me from doing any more running."
Testing at Monza will come to an end on Friday.
Today's times:
Pos  Driver        Team-Engine         Tyres  Time   
 1.  Irvine        Jaguar-Cosworth     (M)    1:24.100
 2.  de la Rosa    Jaguar-Cosworth     (M)    1:24.539
 3.  Barrichello   Ferrari             (B)    1:25.036
 4.  Trulli        Jordan-Honda        (B)    1:25.139
 5.  Montoya       Williams-BMW        (M)    1:25.335
 6.  Wurz          McLaren-Mercedes    (B)    1:25.401
 7.  Hakkinen      McLaren-Mercedes    (B)    1:25.745
 8.  R.Schumacher  Williams-BMW        (M)    1:26.054
 9.  Villeneuve    BAR-Honda           (B)    1:26.122
10.  Zonta         Jordan-Honda        (B)    1:26.474
11.  Button        Benetton-Renault    (M)    1:26.685
12.  Fisichella    Benetton-Renault    (M)    1:27.018
13.  Alonso        Minardi-European    (M)    1:28.520
14.  Yoong         Minardi-European    (M)    1:28.570

All Timing Unofficial

Published at 18:06:45 GMT
---