Wednesday July 4th, 2001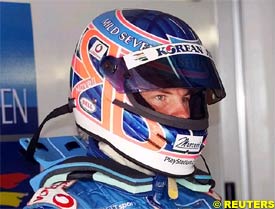 The order stayed exactly the same on the second day of testing at the Barcelona circuit, where Spanish driver Marc Gene was again the fastest of the three drivers present at the track.
The Williams test driver, who on Tuesday was unable to run as many laps as the team had planned, completed a race distance on Wednesday at the wheel of the FW23, finishing the session more than four tenths of a second ahead of Australian Mark Webber.
"Today we finished the programme as planned and so far the test has been very positive," said Gene. "We made some progress on the tyres and Michelin are working very hard. We are trying some developments and I have already seen some improvements in this area."
The Benetton tester, driving last year's B200, was once more the busiest man on track, completing 82 laps, testing the new parts introduced at Magny Cours.
"Today we were using an old engine specification, which we have got up to miles," said Benetton's technical director Mike Gascoyne. "The team managed to get a basic balance on the car and also tested the new parts that were introduced in Magny Cours last week, which we successfully evaluated."
Briton Jenson Button was the only other driver present at the Circuit de Catalunya today, the 21-year old setting the slowest time again.
Button, who was only six hundredths slower than Webber, also tested the HANS (Head and Neck Support) device, expected to be introduced in Formula One once it's comfortable for the drivers. Williams and Benetton will continue working on Thursday.
Today's times:
Pos  Driver        Team-Engine         Tyres  Time   
 1.  Gene          Williams-BMW        (M)    1:21.804
 2.  Webber        Benetton-Renault    (M)    1:22.212
 3.  Button        Benetton-Renault    (M)    1:22.287

All Timing Unofficial

Published at 17:13:20 GMT
---