Sunday October 31st, 1999
A perfect start and a clear lead from pole-man Michael Schumacher going into the first corner saw Mika Hakkinen take control of the Japanese Grand Prix and with it, the 1999 World Championship of Drivers.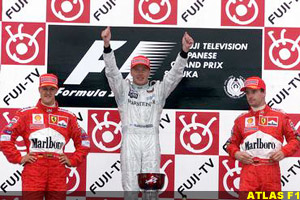 Other than a brief 3-lap period at the first of the two scheduled pit stops for all the front runners, Hakkinen led the entire 53-lap race by a comfortable margin, finally taking the flag five seconds clear of Michael Schumacher's Marlboro-Ferrari.
Eddie Irvine was the first to congratulate Hakkinen on his win and second consecutive World Championship victory. "Mika won it in great style," said Irvine, who might have lost his own title to the Finn by just two points, but was still happy to have scored a third place finish almost a full lap behind Schumacher, for it ensured Scuderia-Ferrari Marlboro's victory in the Constructors' Championship, four points clear of McLaren-Mercedes.
McLaren's hopes of taking the double were spoiled when their second driver, David Coulthard, slid off the road and damaged his car's nose section after gaining third place from Irvine at the first round of pit stops. He came back into the race a lap down - seriously slowing Schumacher's chase of Hakkinen - only to drop out a few laps later with no gears due to a hydraulic problem.
Despite being pushed the whole race, first by Coulthard and then by Heinz-Harald Frentzen and Ralf Schumacher who finished fourth and fifth, Irvine described the last part of the race as "boring", although the three cars were covered by under four seconds at the flag. "I had a stiff neck at the end after my accident on Saturday," added Irvine , who was some 95 seconds behind the leader at the flag after being slowed by Coulthard's delaying tactics before his retirement.
"We knew they were going to be some games going on to-day. Whoever won the Championship deserved it for different reasons," commented Eddie, who took his loss of the title in good spirits. "To be honest, we were only in with a chance of the title at the last race because we made less mistakes than they did this year. Mika and McLaren did their best to win the title for me , but I didn't quite make it."
Jean Alesi's final race for the Sauber team saw him end the day with a well deserved point for sixth place, a lap down on the leaders after outpacing the two Stewart-Fords of Johnny Herbert and Rubens Barrichello in seventh and eight position.
Thirteen of the 22 starters made it to the flag, both Prost cars amongst the retirements, Olivier Panis having held a strong third place in the opening laps because of a 3-stop race strategy only to drop out with a gearbox problem. Trulli lasted just 3 laps when his car's engine died.
Damon Hill's final Formula One race ended on a low note to reflect the rest of his miserable season with Jordan. After running wide on a corner before his first pit stop and losing time having his car's nose changed, he simply pulled in after a few laps and retired from the race saying,"I decided there was little to gain and too much to lose by carrying on."
It was a sad end to his illustrious F1 career.

Japanese Grand Prix
World Championship of Drivers, round 16;
Suzuka, October 31st, 1999;
53 laps. Weather: dry, sunny.

CLASSIFIED

Pos  Driver        Team                  Time         
 1.  Hakkinen      McLaren Mercedes      1h 31:18.785 
 2.  M.Schumacher  Ferrari               +   0:05.015 
 3.  Irvine        Ferrari               +   1:35.688 
 4.  Frentzen      Jordan Mugen-Honda    +   1:38.635 
 5.  R.Schumacher  Williams Supertec     +   1:39.494 
 6.  Alesi         Sauber Petronas       +   1 Lap    
 7.  Herbert       Stewart Ford          +   1 Lap    
 8.  Barrichello   Stewart Ford          +   1 Lap    
 9.  Villeneuve    BAR Supertec          +   1 Lap    
10.  Wurz          Benetton Supertec     +   1 Lap    
11.  Diniz         Sauber Petronas       +   1 Lap    
12.  Zonta         BAR Supertec          +   1 Lap    
13.  De La Rosa    Arrows TWR            +   2 Laps   


NOT CLASSIFIED / RETIREMENTS

Driver        Team               On Lap   Reason     
Fisichella    Benetton Supertec    47     engine      
Takagi        Arrows TWR           43     gearbox     
Badoer        Minardi Ford         43     engine      
Coulthard     McLaren Mercedes     39     hydraulic/gearbox
Gene          Minardi Ford         31     gearbox     
Hill          Jordan Mugen-Honda   21     withdrew    
Panis         Prost Peugeot        19     gearbox     
Trulli        Prost Peugeot         3     electrics   
Zanardi       Williams Supertec     0     electrics   


Fastest Lap: M. Schumacher, Lap 31, 1:41.319 (208.355 km/h)

Lap Leaders: Laps 01-19, Hakkinen; 
             Laps 20-22, Schumacher; 
             Laps 23-53, Hakkinen.

             
Final Drivers Championship Points Standings:

 1. Hakkinen      76        2. Irvine        74
 3. Frentzen      54        4. Coulthard     48
 5. M.Schumacher  44        6. R.Schumacher  35
 7. Barrichello   21        8. Herbert       15
 9. Fisichella    13       10. Salo          10
11. Hill           7        =  Trulli         7
13. Diniz          3        =  Wurz           3
15. Panis          2        =  Alesi          2
17. de la Rosa     1        =  Gene           1

Final Constructors' Points Championship:

1. Scuderia Ferrari          128
2. McLaren-Mercedes          124
3. Jordan-Mugen Honda         61
4. Stewart-Ford               36
5. Williams-Supertec          35
6. Benetton-Playlife          16
7. Prost Peugeot               9
8. Sauber-Petronas             5
9. Arrows                      1
=  Minardi                     1

All Timing Unofficial

---