In a recent interview with Bernie Ecclestone published in Atlas F1, the Formula One Supremo expressed his reservations of women ever competing in Formula One, pointing at the absence of a pool of women coming up through the ranks and asking, "where will they come from?"
In the wake of much public comment on that aspect of the interview, I sought Bernie's further views on the subject and he confirmed that he is not against having women in Formula One; indeed, he mentioned that he thought Giovanna Amati, the most recent aspirant, "was as quick as many of the men" when she competed in F3000. Bernie explained that he was simply being pragmatic in describing "women's difficulties in becoming accepted in Formula One. They need to come through the lower Formulas as the boys do. I am sure that if there were the same number of women entering motorsport as men, we would find a competent female driver."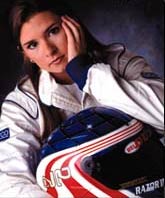 Ecclestone's belief that there aren't enough women making up the ranks in the lower formulas towards F1 is indeed quite realistic, but just quite. There is, in fact, one woman among the men: she is Danica Patrick, five foot one inch tall, who will turn 18 next week, from Roscoe, Illinois. She now lives near Birmingham, England and is running a Mygale SJ2000 Formula Ford under the tutelage of Jim Warren, team boss of the double title-winning Haywood Racing Team, the McLaren of Formula Ford teams.
Warren runs a four-driver "works" team and another two drivers through an affiliate team, Andy Welch Racing. Danica races for Andy Welch now but is scheduled to move up to the works team in September, 2000. She has been racing Go-Karts since she was 10 years old, broke her first track record that year and ultimately became a five-time Grand National Go-Kart Champion by the time she was 16, when she effectively "aged out" and switched from karts to open wheel race cars.
Last year, she ran in Formula Vauxhall in the UK and had her baptism of fire. She got to race at all the legendary racing circuits in England: Donington, Silverstone, Thruxton, Brands Hatch, Oulton Park and Snetterton, Living the Dream at Sixteen.
It was an eventful year but not a particularly auspicious one; although she was named Driver of the Race at Snetterton, on other occasions her battery went dead, she had shunts at Brands Hatch and Croft, and one time she ran a whole race without any brakes. She finished 9th in the Championship.
Still, her performances had a telling indicator about them that is as applicable in the lower formulas as it is in Formula One: she was consistently quicker than her teammates. She was also adept at moving up during the races, regularly qualifying 11th or so but finishing higher, as high as 5th and 6th out of a field of 20 competitors. The Autosport report on her race in Formula Vauxhall at Silverstone on September 19, 1999, sums up her progress: "Danica Patrick drove her best race of the year and took sixth place, despite it being her first car race in wet conditions."
This year Danica is poised for the Big Time. Through her agents, the John Mecom Group of Houston, Texas, she has met Jackie Stewart - a man known to have a nose for talent - out at the Milton Keynes Stewart-Jaguar factory and some of the bewildering expenses her parents, TJ and Bev Patrick back in Illinois, bear to support her career are now being made slightly more palatable because of a letter of intent for sponsorship from Ford that Jackie helped arrange. (It has been reported that an all-out assault in Formula Ford could cost as much as $214,000 a year plus living expenses.)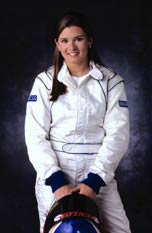 Danica's long-suffering parents have also received a letter of encouragement from Bernie Ecclestone approving of her competing in Formula Ford this year. Writes Bernie: "This is by far the best way to gain the experience for her future. Tell her not to give up, she will just have to mix with the boys and fight harder for her position. I hope everything works out for her."
Although she has appeared on MTV and ABC shows in the States featuring young women in sports, what she does day in and day out in the North Country of England is far from glamorous. While the Formula One cars abandon England in the winter to test in sunnier climes like Barcelona or Jerez in Spain, Danica and the Formula Ford crowd test in the chill and even in the snow of the West Midlands. She misses her toasty home in Illinois on occasion but after visiting her family for the Christmas holidays her parents report that she couldn't wait to get back to testing in the UK.
As Bernie's pointed question, "where will they come from", suggested, Danica is the only girl amongst the 34 Formula Ford competitors; it is as if she is Janet Guthrie running in the 1978 Indy 500, when Guthrie was one woman out of 33 drivers. (She finished a respectable 9th.)
Unfortunately, the race cars Danica is driving - the Formula Vauxhall and the Formula Ford - both depend heavily on slipstreaming and catching a tow from other drivers to be driven to maximum effect. And as was the case with Janet Guthrie, you can imagine that the boys would tend not to fall over themselves trying to help Danica out, which sometimes affects her qualifying position. It is dog-eat-dog out there. But at least last year in Formula Vauxhall, Danica's experience was that she often searched in vain during qualifying for a cooperative tow, making her strong finishes in the races themselves - when the slipstreaming is involuntary and more a function of driving ability - all the more remarkable.
And these Formula Fords are not baby carriages by any means. They top out at 145 mph, the average race speed on some tracks is 120 mph and the cars have no front or rear wings and lack the aerodynamic grip taken for granted in Formula One. Indeed, Formula Ford is the equivalent of the Indy Lights and Toyota Atlantic series cars seen in the United States and is considered a stepping stone to F3000, which is the last rung of the ladder before Formula One.
That Patrick came as far at such a tender age is all down to her supportive family, which has been with her from Day One. Her father, T.J. Patrick, a former driver himself who has raced everything from snowmobiles to midgets, worked on Danica's karts during that phase of her career and still advises her long distance, trying to retain his impartiality while evaluating his own flesh and blood: "When we're racing I look at her as a racer, not a daughter. When she puts on that helmet she becomes a completely different person."
Q: What do you consider her best trait as a driver?
"She's very smooth. Her hands rarely move, and that's the whole key to any race car driving - just being smooth."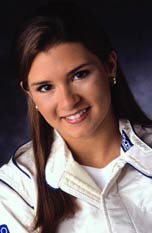 Danica's mother, Bev, and younger sister Brook, almost 16 years old, were also part of the foursome that traipsed around the United States and Canada pursuing Danica's karting career. Brook was actually into karting before her older sister tried it out but Brook gave it up and ultimately evolved into Danica's public relations division at the tracks, helping out with Danica's fans and handing out pictures and T-shirts with Danica's sponsors' names on them. Bev Patrick, the mother who inspired this industrious brood, takes quiet satisfaction in the way people respond to her daughter: "I like to see everyone's reaction when she comes off the track and pulls off her helmet and throws out her hair; they point and say that's the girl, that's the girl!"
Jim Warren, Haywood Racing's team manager, is the new 'Team Danica', substituting for her family back home. He says that what he looks for in a young driver - quickness, consistency and determination - he sees in Danica. He marvels at Danica's will to succeed, saying, "she has enough grit and determination for three people." His goals for her this year: if Danica finishes in the top six and has at least one podium finish he'll consider it a successful first season in the Formula Ford series.
And what of Danica herself? While she understands that she is a novelty, Danica wants to be judged on the merits as a racer pure and simple, not a girl racer. "Under the helmet," she says, "I am just one of the guys. One of the racers.
"I am aggressive but I don't do silly things. I do not make the wrong choices to the point where I fall out of races." As for the boys, it is clear to her that "no one wants to be beat by a girl" but she has done that enough times since she was 10 years old that it is old hat to her; it is their problem, not hers. Her attitude echoes that of one of Danica's mentors, Indycar driver Lyn St. James, who puts it this way: "The sport of automobile racing is really genderless; the car doesn't know the difference."